Welcome to In A Yarn Basket
Couch's Little Workshop Trunk Show


Saturday, September 3, 10am-5pm
Handcrafted wooden looms made in Indiana on display and available for purchase all day (along with weaving books and cone yarn); weaving demonstrations at 11am & 2pm. Special one Day Event Pricing too!
Special Events & Sales
Friday-Saturday, September 2-3, 10am-5pm
Labor Day Sale -- 15% off regular-priced and clearance yarns.

Monday, September 5 -- CLOSED for Labor Day

Tuesday, September 6, 6-8pm
Granny Square Crochet-along -- $5 per session.

Wednesday, September 7, RESCHEDULED!!! Sock Club -- 15% off all regular-priced sock yarn (THIS has been rescheduled to Wednesday September 14th. With the Labor Day Holiday we found out our featured yarn won't be here in time and YOU WILL Want to see this new to us yarn!
Upcoming Classes
Beginning Knitted Socks -- $75 (materials included)
three Saturdays: September 17 & 24, October 1. 10:30am-12:30pm.
Using worsted weight yarn, learn the basics of top-down sock knitting: how to knit in the round, make a heel flap and do a heel turn; and invisibly seam the toe using the kitchener stitch technique.
Beginning Knitting -- $49 (materials included)
two Saturdays: October 8 & 22. 10:30am-Noon.
This class will teach you how to start (cast on) and finish (bind off) a project as well how to knit and purl, the building blocks of knitting.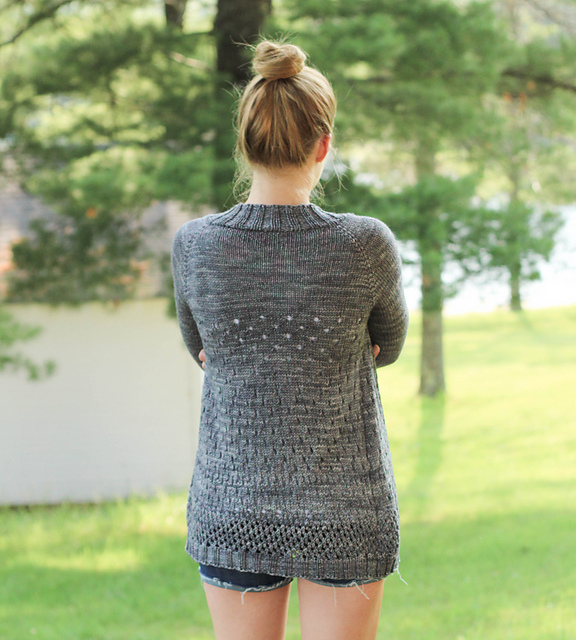 Campside Cardi -- $90 (materials NOT included)
four Tuesdays: October 18, November 8 & 22, December 13. 6:00-7:30pm
In this class, you will learn to knit a
beautiful cardigan
seamlessly from the top down. Skills covered in class: reading and following charts; separating for sleeves and finishing them later, picking up and knitting a front edge, and finishing and blocking your sweater.
Coming in October
Socktober Pattern Collection Release & Knit-Along
This October, we're partnering with designer Lisa Ross to devote an entire month to sock knitting! Get this four-pattern collection before it's released to the general public and join us to knit along with the designer every week in October. Stay tuned for more details.

Fall Fiber Retreat at McCormick's Creek State Park
There are still a few spots available for our second annual retreat! The retreat runs Friday night to Saturday evening (including breakfast & lunch on Saturday) and features a more laid-back class schedule as well as a bring-your-own-projects fashion show, a vendor room (10am-4pm on Saturday), and even better swag than last year. Call or stop by the shop to sign up!
Welcome to In A Yarn Basket
Join us for "In A Yarn Basket's" Second Annual Fall Fiber Retreat at McCormick's Creek State Park!
Registration opens August 11th. Only 30 spots are available, so don't wait to put down your deposit. Renew old friendships from last year and make new friends!
Friday night – dinner at the Canyon Inn Restaurant (not included in price), meet-&-greet, and a sock-yarn mystery swap. Bring a unused skein of clean, odor free sock yarn to destash and go home with new-to-you yarn!
NEW this year: Fiber Fashion Show: The Good, The Bad & The Ugly
There will be prizes for Worst First Project (The Bad), Best Garment (The Good), and Ugliest Fiber Piece (The Ugly). Pieces can be knitted, felted, crocheted or woven. You must have created these pieces yourself to be eligible to win prizes.

Saturday – breakfast, lunch, & 2 snacks
Classes: Learn to Spin the Drop Spindle Way , Crochet Embellishments and Stitches and an Optional Class: Needle Felted Fall Scene Class.

This year we have also added a Vendor Fair from 10-4 Saturday only! (Internet access is spotty, so plan for cash or check to pay vendors if possible.)
Vendors
* Twisted Tree Fabrics
* Couch's Little Workshop Looms
* BAH Yarns
* Half Assed Homesteading

New features:
* Last year's attendees asked for more open knitting time and we listened. Lots of unscheduled time since we needed to break the felting class down to allow lots of time to craft your perfect fall scene by needle felting. This class will be offered twice and is optional.

* Last year's attendees asked for more swag, and you got it! This year's retreat bags are crammed with lots of crafting goodies.

* If you are participating in the Mystery Sock Yarn Exchange, please bring a 100 gram skein of clean, pet and odor free sock yarn.


Costs & Check-in Info

Retreat deposit is $50. There are 2 Options to choose from:

Option #1: $99 for 2 snacks and 2 meals, retreat goody bag with lots of swag; two classes (Drop Spindle and Crochet Embellishments & Stitches); open crafting time. Option #1 does NOT include the Needle Felted Scene Workshop.

Option #2: $125 or 2 snacks and 2 meals; retreat goody bag with lots of swag; two classes (Drop Spindle and Crochet Embellishments & Stitches) AND the Needle Felted Scene Workshop; open crafting time.

HOTEL COST and Friday dinner are NOT INCLUDED. The hotel cost is separate from the retreat price to make the event possible for locals who prefer not to stay at the hotel.

After you've paid the deposit, call the Canyon Inn to reserve your hotel room. To guarantee a room in our retreat block, you must book by Monday, September 19th, using the code provided by our store.

Canyon Inn reservation hotline: (812) 829-4881
Canyon Inn website: www. in.gov/dnr/parklake/inns/canyon/lodging.html

Check-in is 4-7pm on Friday, October 14.

Check-out is 11am on Saturday October 15th.

Outdoor activities such as leaf peeping and hiking are optional but highly recommended.
In A Yarn Basket