Classes
CLASSES & SPECIAL EVENTS
To register for a class, call or stop by the shop. Payment is requested at the time of registration to guarantee your spot. All class supplies are available at In a Yarn Basket and will be discounted 10%. PLEASE bring your tool box of supplies -- scissors, stitch markers, pencil, tape measure, tapestry needles, and crochet hooks -- to all classes.
Parking is free in the Smith's Shoes plaza, and our well-lit, clean, flat, and convenient parking lot makes us very accessible. For those with mobility challenges, the designated parking places are close to our door. If you have a driver, have them pull up at the fire lane for easy drop-off and pick-up.
Many of our customers and employees are highly sensitive to fragrances, so we ask that you please refrain from wearing personal body fragrances to classes. Thanks!

---
CLASSES
Beginning Knitted Socks -- $75 (materials included)
three Saturdays: September 17 & 24, October 1. 10:30am-12:30pm.
Using worsted weight yarn, learn the basics of top-down sock knitting: how to knit in the round, make a heel flap and do a heel turn; and invisibly seam the toe using the kitchener stitch technique.

Beginning Knitting -- $49 (materials included)
two Saturdays: October 8 & 22. 10:30am-Noon.
This class will teach you how to start (cast on) and finish (bind off) a project as well how to knit and purl, the building blocks of knitting.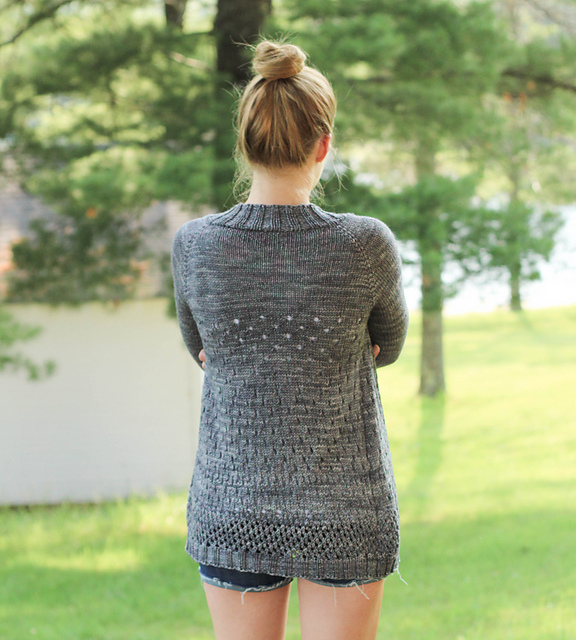 Campside Cardi -- $90 (materials NOT included)
four Tuesdays: October 18, November 8 & 22, December 13. 6:00-7:30pm
In this class, you will learn to knit a beautiful cardigan seamlessly from the top down. Skills covered in class: reading and following charts; separating for sleeves and finishing them later, picking up and knitting a front edge, and finishing and blocking your sweater.
Coming in October
Socktober Pattern Collection Release & Knit-Along
This October, we're partnering with designer Lisa Ross to devote an entire month to sock knitting! Get this four-pattern collection before it's released to the general public and join us to knit along with the designer every week in October. Stay tuned for more details.
PRIVATE LESSONS
Knitting and Crocheting
​$20 for the first hour; $​​18 for subsequent hours; $12 for subsequent half-hours

Interested in learning the basics one-on-one or with a friend? Brushing up on rusty techniques? Stuck on a particular project? Call and schedule your private lesson so we can give you the personal attention you need! Materials purchased for private lessons are also discounted 10%.
************************************************************************************************
SPECIAL EVENTS & MULTI-MONTH CRAFT-ALONGS
Monthly Granny Square CAL (Crochet-Along) -- $5/session
the first Tuesday of most months, January-May & August-November 2016, 6-8pm
(​We will not meet in March, June, or July, so we will occasionally meet twice a month to make up the difference.)
Instructor: Sherry Weeks.
Learn to crochet the "Granny Square" way: a timeless classic that can be used to create a whole array of items, from clothing and afghans to toys and household goods. In this class, you will learn to make nine 12"x 12" granny squares that can then be incorporated into an afghan.
Techniques covered: chains, single crochet, double crochet, weaving in ends.
Materials Needed: one 200yd skein of worsted weight yarn (sample knitted in Encore); one crochet hook in size F, G, or H. All materials are available at In a Yarn Basket and discounted 10% for the class.
************************************************************************************************
ON-GOING ACTIVITIES & GROUPS -- FREE
All are welcome to join these events anytime.
SOCKS-AND-SOCK-YARN CLUB
First Wednesday of every month, 5:30-7:30pm
Join us for two hours of nothing but socks and/or anything knitted or crocheted with sock-weight yarn, and get 15% off all regular-priced sock yarn! Sock Club is not a beginning sock class, but questions are welcome!
RIGID HEDDLE SUPPORT GROUP
Fourth Tuesday of every month, 5:30-7:30pm
Do you have a rigid heddle loom that you need to dust off and get warped? We hear you and are ready to help! This "club" is a support group to help you warp that loom, encourage your creative side and get you weaving! As a courtesy to us and in the spirit of good manners, we ask that you work on projects with yarn you have purchased from our shop.
FIBER SUNDAY
Third Sunday of the Month, 1-4 pm (note the time change!)
Join us for spinning and fiber experimentation. Each month, we'll offer samples of a new fiber for $5 per 1oz bag. If you don't spin (yet...) but want to come along with friends who spin, you are welcome to knit, crochet, or weave at no charge.
TUESDAY LUNCH BUNCH
Every Tuesday, 11:30am-1:30pm (adults only, please)
Lunch Bunch -- because you need an excuse to leave work for lunch and craft with friends for a while! If driving at night isn't your thing, join us during the day for crafting and lunch. Sometimes we also have charity projects you can work on.
THURSDAY NIGHT KNIT & CROCHET
Every Thursday, 6-8pm (adults only, please)
Knit Night is FREE and open to all fiber addicts. If you are having problems with a project, need help with a technique or a bit of reassurance as you learn a new skill, this is the perfect forum. Our staff and teachers are always available and eager to help. If you don't need any guidance, Knit Night is a great way to meet people in the fiber community, be inspired by what others are doing, get away from the family for a few hours, and enjoy some uninterrupted knitting/crocheting.
As a courtesy to us and in the spirit of good manners, we ask that at Lunch Bunch and Knit & Crochet Night, you work on projects with yarn you have purchased from our shop. Some shops make this a requirement but we aren't that heavy-handed. We do like to see yarn you have purchased from yarn shops on your travels, but box store and mail order yarn --- not so much!
************************************************************************************************
PRIVATE INSTRUCTION
Sometimes group lessons don't fit the busy lives of our customers and no one should miss out on the fun. Getting personalized, individual attention means no down time so you will be sailing along very quickly. We offer private lessons for beginning knitting and crochet, socks and just about any project or technique you can think of. Fee: $20 first hour for beginning knit or crochet; $18 subsequent hours, and $12 for 1/2 hour. 10% discount on materials required for classes. Call us for more information: 812-330-5394, or email us: inayarnbasket@gmail.com.
BUILD A CLASS
We love parties — why not let us be your entertainment? Birthdays, holidays or Friends' Night Out, we specialize in youth to adults and will build a class for whatever your group would like to do — crochet, knit, needle-felt or wet-felt. Some classes will include materials, so the cost will vary. Call or email for more information.
************************************************************************************************
Several of our customers and staff are highly sensitive to fragrances so we ask that you please refrain from wearing fragrances to classes.

During classes, please be courteous and silence your cell phones.